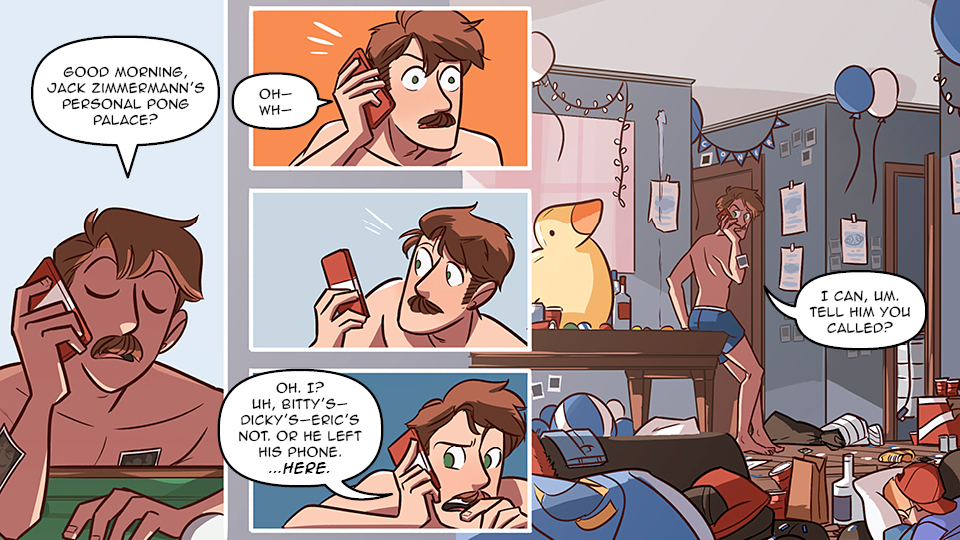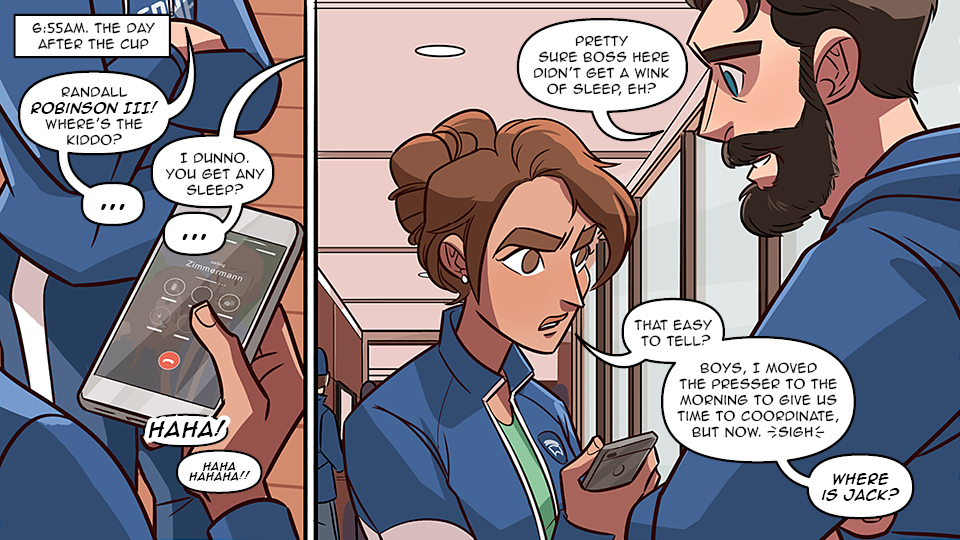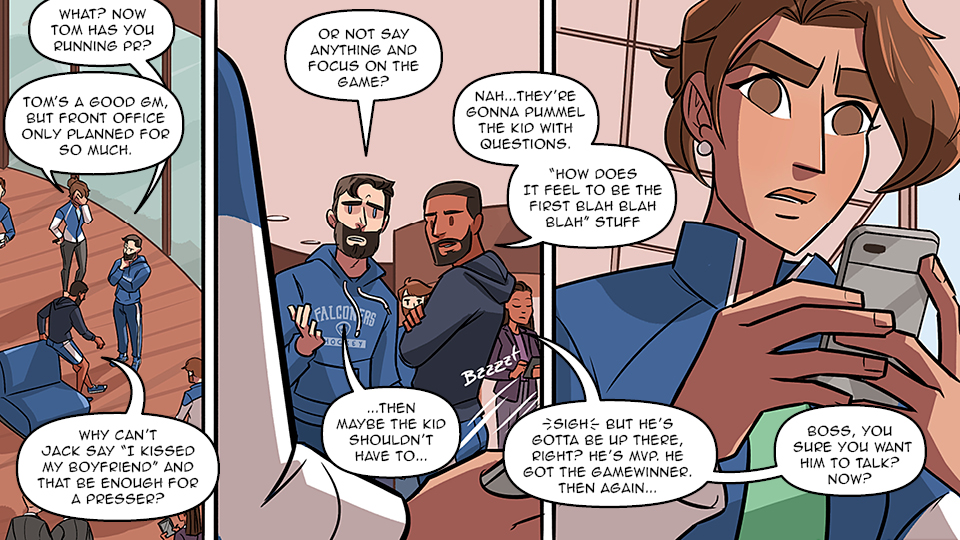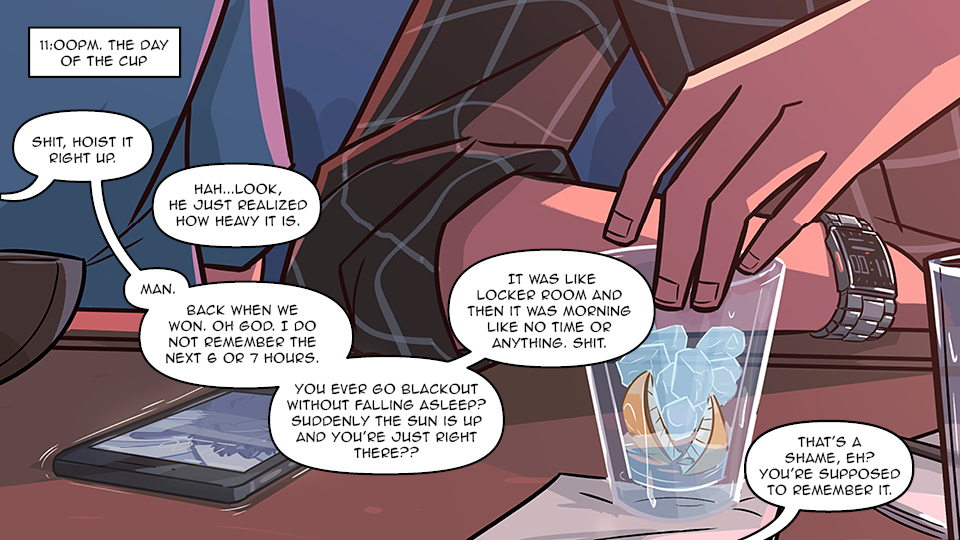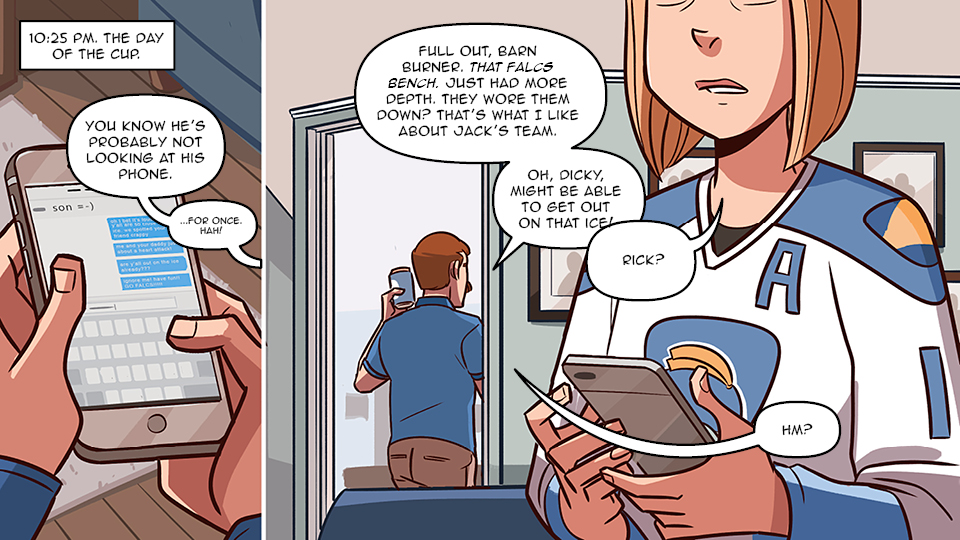 How to read Check, Please!
Check, Please! is made up of episodes, not individual pages! To read through an episode, click the arrows on the left or right side of a page or click on the left or right side of the image itself. (You can swipe too!)
When you're done with an episode, use the arrows below to keep reading. (Double arrows will take you to the beginning and most recent comics.)
Thanks!
Posted December 27, 2017 at 7:15 pm
☆ ☆ ☆ NOTES ☆ ☆ ☆
In addition to being chockful of hockey, pies, goofs, and cute moments between our protagonists, every volume of Check, Please answers a question. (Usually by complete accident. Er.) That question is usually posed around the beginning of Bitty's school year.
When Bitty brings a pecan pie (a specialty southern cuisine, warm, sweet…#BittyIsThePie) to his very first Samwell kegster, it can't survive a single party without getting destoryed. Then, you wonder if Bitty will be able to survive in this hostile bro-y landscape. When Jack and Bitty have a halo-themed shower shouting match, you wonder if these two teammates will ever get along. When Bitty assures Jack that he will keep their relationship a secret–and Jack lies about his nonexistent WAG, you wonder…how long can Jack and Bitty go on like this.
Well, not for very long because these two crazy kids told the entire planet.
Eric Bittle you anti-confrontational, head-over-heels-in-love, proud-of-your-Stanley-Cup-mann, dramatic, conflicted, pie-baking ding dong. ✓ (Read full notes here!)
Posted April 7, 2020 at 9:52 pm
The Check, Please! Store on DFTBA is 20% off and the Jersey is ~25% Off!
Check, Please's last updates are this week. Here on checkplease.com.