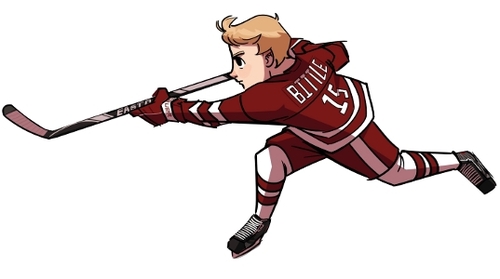 Check, Please! is written and drawn by Ngozi Ukazu.
Eric Bittle—former Georgia junior figure skating champion, vlogger extraordinaire, and amateur pâtissier—is starting his freshman year playing hockey at the prestigious Samwell University in Samwell, Massachusetts. And it's basically nothing like co-ed club hockey back in the South. For one?
There's checking.
It's a story about hockey and friendship and bros and trying to find yourself during the best 4 years of your life.
About Ngozi
Ngozi graduated from Yale University in 2013 and recently earned an MFA in Sequential Art at the Savannah College of Art and Design. She can't skate. Follow her on Tumblr.
Ngozi is represented by George Rohac of Organized Havoc.
Check, Please! © 2017 Ngozi Ukazu. All characters appearing in this work are fictitious. Any resemblance to real persons, living or dead, is purely coincidental.