Posted December 25, 2014 at 8:18 pm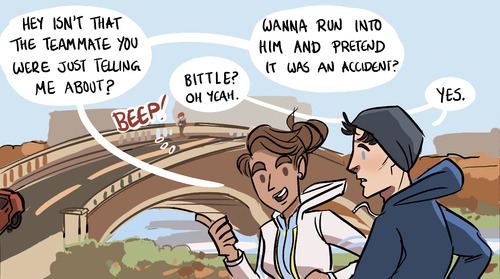 ★ Notes on Year 2, Comic 5 - Providence Falconers★
✓ OH! SO THIS MEANS JACK IS GOING TO PLAY FOR THE BRUINS, RIGHT? Like the post-it note in panel 5 of comic 2.1 said! WHAT. GO BACK AND READ THE COMIC.
✓ Ooooh this is it. This is Jack's new team. You invented NHL expansion teams so you wouldn't have to get into the awkward position of having Jack play for a real hockey team with real people. I mean you said it, not me. If I mention random NHL teams and you're like "whaat???? how have I never heard of that team!!", it is because I made a few up! Samwell University does not exist and neither do any of the following:
- Providence Falconers

- Seattle Schooners (I might….already have an entire separate story idea for these losers. *cries*)

- Las Vegas Aces (Kent Parson's team.)

- HOUSTON AEROS (I BROUGHT THEM BACK. MY HOMETOWN NEEDS HOCKEY.)
✓ *ahem* Ms. Ukazu, I hope you realize the numerous fallacies in creating an NHL expansion team in the city of Providence–let me tell you the history of New England professional and semi-professional hockey and why the NHL has resisted the development of a franchise in Rhode Island dating back to 1978– NOPE SORRY NONE OF THIS IS REALITY BITTY'S TWEETS ARE ME
✓ Another character! A LADY! A GEORGE??? YES WHILE EVERYONE WAS GETTING CAUGHT UP IN THE HOOPLAH GENERATOR THAT IS KENT "A NEW CHALLENGER APPEARS" PARSON I WAS BUSY DRAWING GEORGIA MARTIN, FORMER OLYMPIAN, CURRENT ASST. GM FOR THE FALCONERS AND PROBABLY JACK'S FUTURE BOSS.
While every other team in the NHL is wondering if Jack will be a liability (i.e., did rehab and America really "fix" him?) and whether Jack's talent is worth all the extra media attention, George's is like fuck that, Jack Zimmermann, you are perfect. Fun fact: she used to be a scout. She prides herself in being able to pick 'em.
Also, I dunno, you can probably guess most of my storylines, but Jack is eventually going to need an executive confidant at some point and who else could be better than a woman in the NHL–a person in a position where they're a minority blazing a trail?
✓ Georgia Martin? George-A Martin? George RR Martin? Is she going to kill Jack? No, she's going to be Jack's boss one day why would she kill Jack? That would upset Bitty.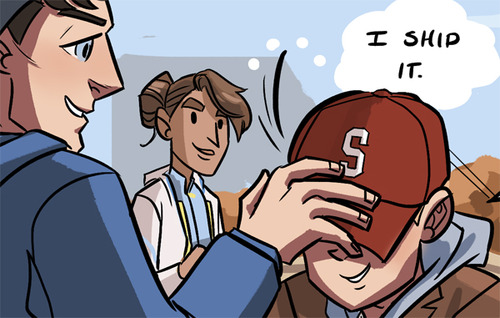 ✓ What, why would Shitty go to law school? This is the first I've heard of this! Yeah, it's been a thing in the extra comics for a while now. Also, Bitty's Twitter:
Shitty and Jack just walked past the kitchen: "Bro, if you played in Boston and I got into Harvard, we could be ROOMIES AGAIN."
— Eric Bittle (@omgcheckplease) October 30, 2014
✓ TRIVIA QUESTION: What Cambridge bridge did I blatantly ripoff to create the main bridge of Samwell (the Samwell Bridge) that is in the very center of campus the east and west sides?
ANSWER: The John Weeks Bridge at Harvard. On a scale from 1 to 10 how 11 is my boner for New England colleges.
Hey and look at this: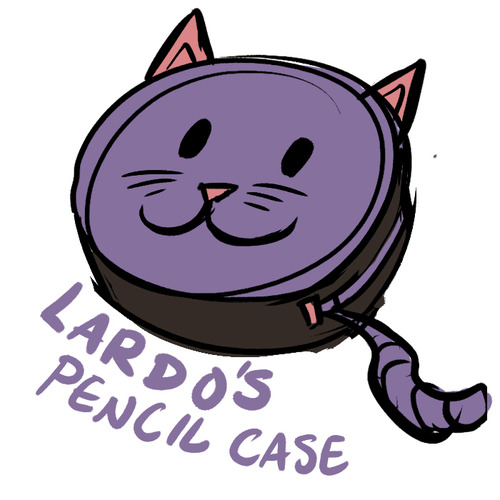 ✓ THE COUCH OH HEY! Jack is on the phone in the den/living room/sitting room of the Haus, and you get a better view of THE COUCH. Bitty hates that couch.
I swear I'm going to get rid of that couch before I graduate…it's seen the worst of humanity.

— Eric Bittle (@omgcheckplease) October 31, 2014

Also, is Chowder taking a nap on that (filthy, horrid) couch going to be a pre-game thing, now?

— Eric Bittle (@omgcheckplease) November 14, 2014

I'm going to throw out that couch before I graduate.

— Eric Bittle (@omgcheckplease) December 12, 2014
✓ NEXT UP. Jack gets help from Bitty for their history seminar final and Bitty comes to a startling realization.