Posted November 26, 2015 at 5:31 pm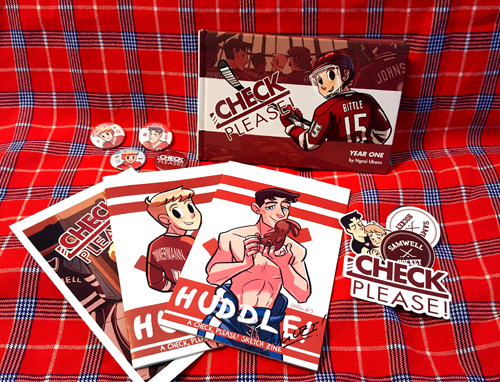 As a big thanks to everyone who has read and shared Check, Please!–It's a Check, Please! giveaway! Thanks!
One winner will receive a signed Check, Please: Year One hardcover book; signed Huddles Vol. 1 & 2., a full set of character magnets, a set of Samwell hockey stickers, and misc. postcards!
Another person will win a signed Check, Please: Year One softcover book, and a set of Samwell hockey stickers.
☆ Rules ☆
✔ Ends Monday, November 30th!
✔ Enter by liking or reblogging this post. You can enter as much as you'd like.
✔ Winners must respond with a mailing address within 24 hours of notification. Prizes ship worldwide. You must be 18 or older to receive NSFW material.
✔ You do not need to follow this blog to enter.
What's Check, Please! about? Check, Please! follows Eric Bittle, a former figure skater who joins his college's ice hockey team. When he's not trying to avoid checks–that is, hits–on the ice, he's baking pies and getting to know his very bro-y teammates.
☆ Start reading here! ☆
Thanks a ton!